A secretly healthy breakfast carrot cake topped with whipped coconut yogurt. Breakfast just got more delicious!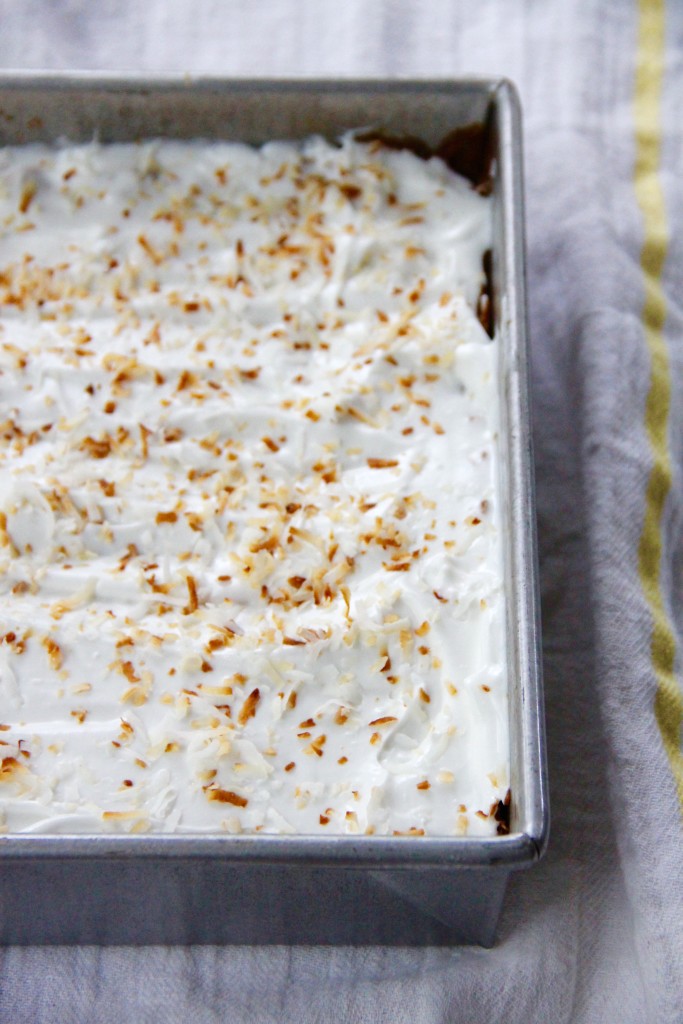 Cake for breakfast. Friends, I have good news, it's totally a thing these days. This is a secretly healthy cake (Ssssshhhh! No one needs to know!), packed full of oats, dates, carrots, seeds, and most important of all, its topped off with a mixture of whipped Coconut Dream™ Non-Dairy Yogurt, and coconut cream. Kirk actually said that it felt indulgent enough to be dessert, and I was happy that 10 minutes of gentle kitchen pottering yielded a good four days worth of yummy nutritious breakfast food that even the babe would eat.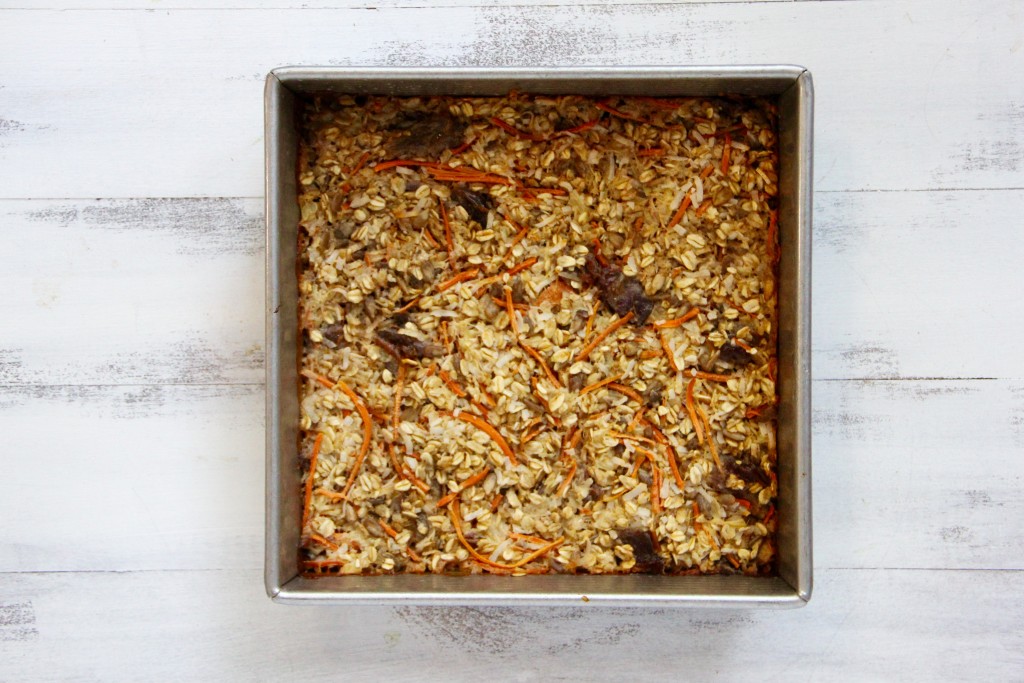 Make ahead breakfasts are such a lifesaver for us these days, it makes our mornings just a little less chaotic and stressful when we have something like this breakfast cake, baked oatmeal, or a mega filling smoothie prepped and ready to go. What is your favourite make-ahead breakfast? I'm always looking for fresh ideas!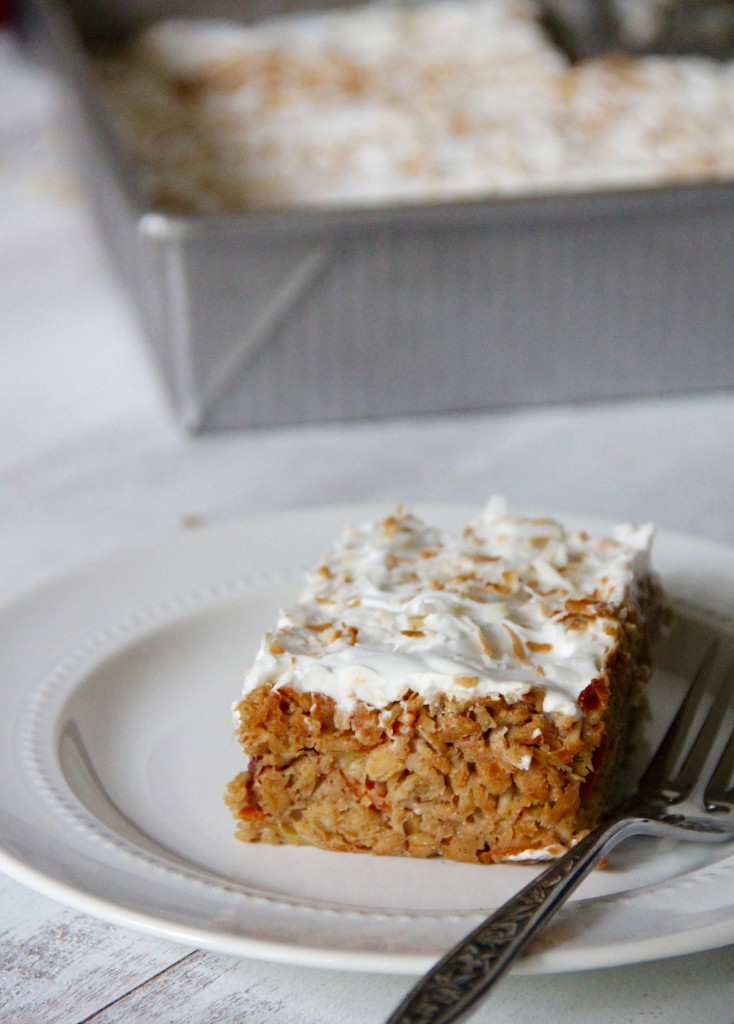 Enjoy!

Breakfast Carrot Cake with Whipped Coconut Yogurt
Ingredients
2¼ oats
½ cup dried coconut flakes
1½ tsp baking powder
1 tsp cinnamon
1 tsp dried ginger
pinch of salt
2½ cups almond milk (or whatever milk you have to hand)
1 cup crushed pineapple
¼ cup maple syrup (or honey, or agave)
⅓ cup chopped dates (substitute for raisins or currents if you wish)
½ cup sunflower seeds (walnuts, pecans or pumpkin seeds work well here too)
1½ cups shredded carrots
1 cup chilled coconut cream
1 cup coconut yogurt (1 pot of Coconut Dream™ Non-Dairy Yogurt)
Method
First, put your tin of coconut cream in the fridge the night before you want to make this. (I like to keep one in the fridge so I don't have to remember to do this...!).
Preheat oven to 375F/190C, and grease a 9x9 baking pan
In a large bowl, mix together oats, cinnamon, baking powder and salt, set aside.
In a medium bowl, mix the milk, pineapple, and maple syrup. Add the wet ingredients to the dry, and stir to combine
Fold in the dates, seeds and carrots, and dump everything into the greased pan
Bake for about 35 minutes until the edges are golden, and everything looks set (it might seem a little undercooked in the center, but thats ok, it will firm up as it cools
Take the tin of coconut cream, and scoop out one cup of the thick chilled cream (leave the watery part, you want the solid stuff!), and plop it into a large bowl. Add the container of coconut yogurt, and whisk the two together until thick and creamy
When the cake is COMPLETELY cooled, spread the coconut topping on top. I usually make both components at night, and spread the topping on in the morning.
Notes
This is a versatile recipe in terms of the seeds/nuts/fruit you can use.
If we need to make this portable, we cut it into smaller squares and "sandwich" them so that the creamy topping becomes a creamy filling.
You can also serve this warm with a little doll of the topping on the side. If you want to serve it warm after its been topped with the coconut, only heat a little (about 20 seconds in the microwave), or your topping will melt into the cake 🙂
This post is sponsored by Coconut Dream™ Non-Dairy Yogurt. Opinions are my own, always.  Thanks for continuing to support ELK and the brands that help make this site possible!