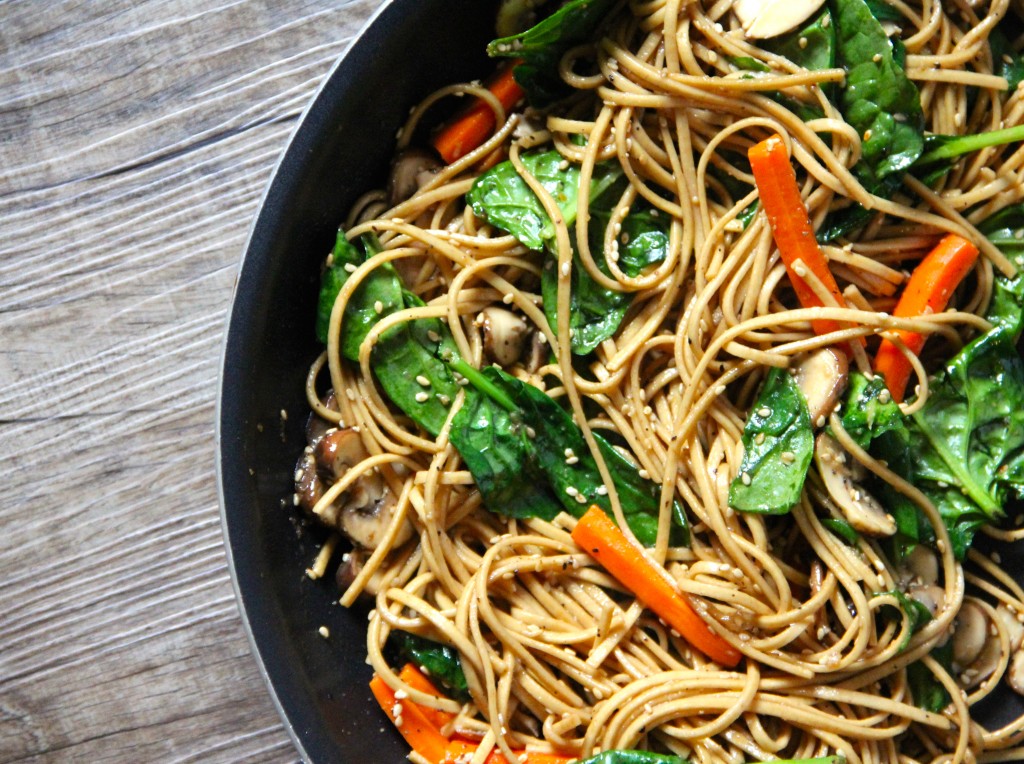 Hello! How is your week going? Kirk and I have been cracking on with all things baby related this week, we are on the countdown now! On Sunday my mother-in-law and sister-in-laws threw me a Pumpkin themed baby shower (you know, in celebration for the baby AND my love for all things pumpkin). I was truly touched by the generosity of my American side of the family, we received so many sweet gifts for our little nugget. Now onto organizing it all- no small feat! This tiny person really does seem to need a lot of stuff, and all of that stuff needs a place to live in our tiny home. Suffice to say, we are pretty busy.
Consequently I have been on the hunt for some extra low-stress, quick meals. Preferably ones that make decent leftovers (fewer meals to plan!), and still pack a nutritional punch. This black pepper and sesame stir fried noodle dish has quickly worked its way into our rotation, for all of the reasons listed above, and because it is absolutely divine.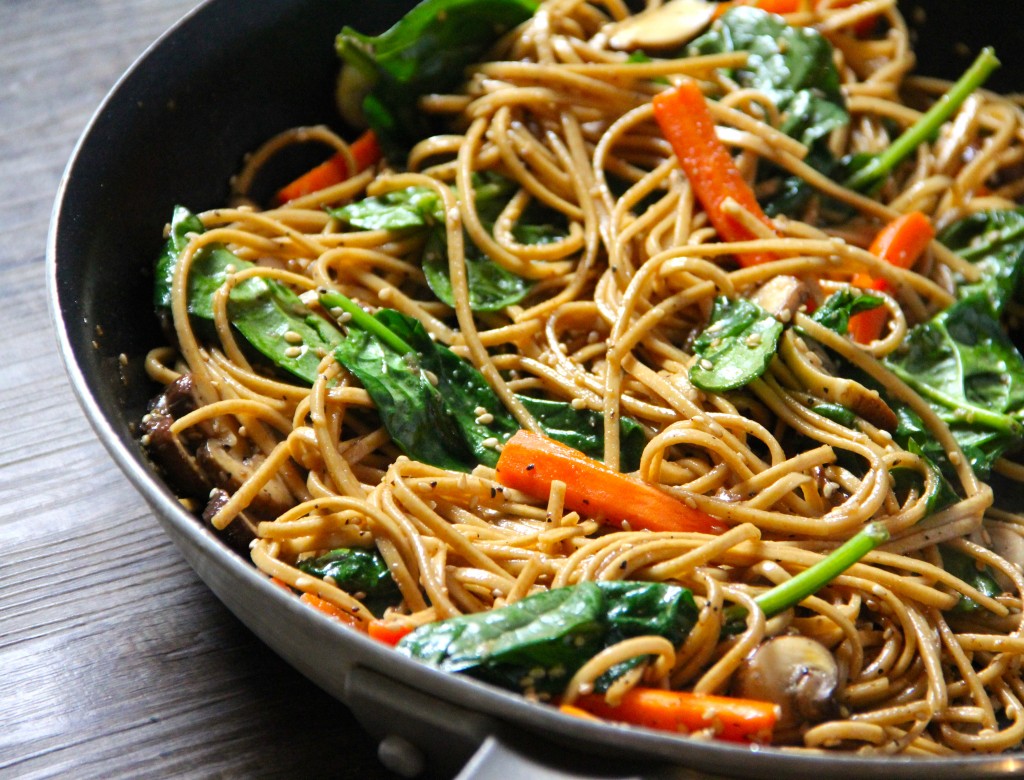 My recipe is adapted from A Pinch of Yum's Black Pepper Stir Fried Noodles. I can't fault the original, its fab, but I wanted to add some vegetables and ultimately decided to loose the tofu. The result is a fresh, light dish with a salty-sweet sauce and a peppery kick. It comes together so quickly, and best of all it is highly adaptable, just use whatever vegetables you have to hand and throw it in there! Happy stir frying, friends!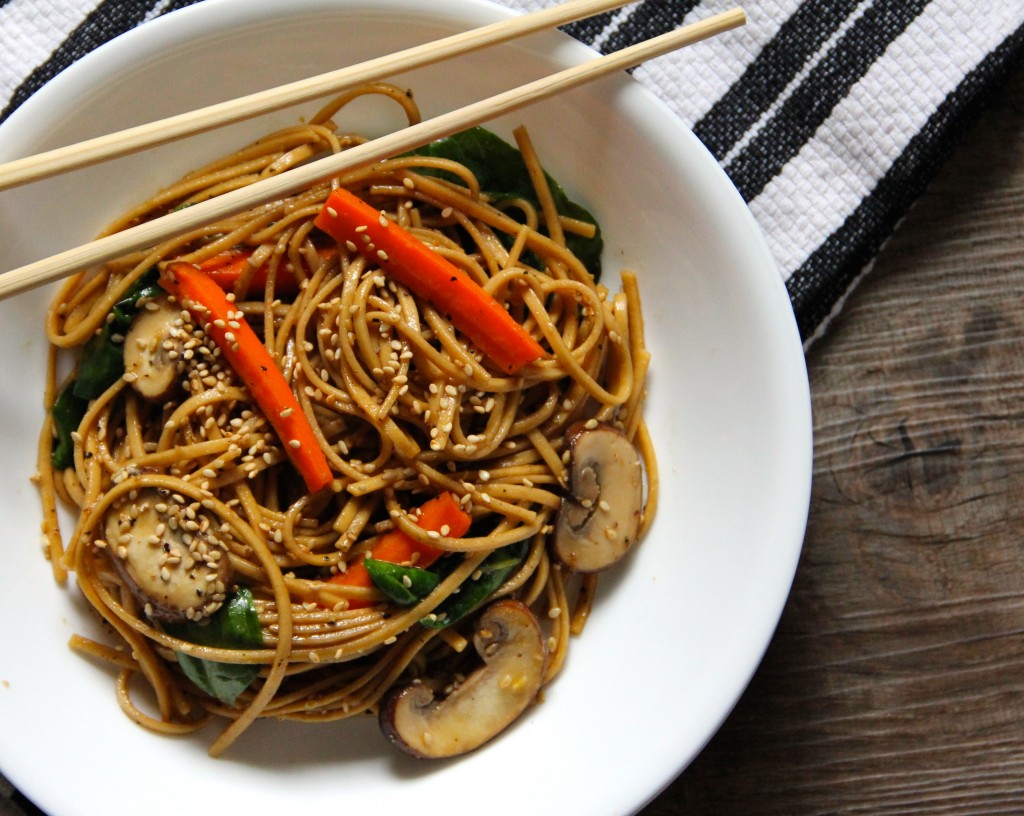 Black Pepper & Sesame Stir Fried Noodles
Ingredients
For the Black Pepper Sauce:
½ tsp freshly ground black peppercorns
6 tbsp low sodium soy sauce or tamari
3 tbsp mirin
2 tbsp honey
1 1 inch piece of ginger, minced
3 cloves garlic, minced
For the Noodles & Vegetables
8oz package of udon noodles
2 tbsp toasted sesame oil
2 medium carrots, peeled and cut into small batons
1 cup mushrooms, sliced
2 cups baby spinach leaves
2 tbsp sesame seeds
Method
Put all of the sauce ingredients into a blender or food processor and blend until a smooth sauce forms, set aside. If you don't have this equipment to hand, simple whisk them together in a bowl.
Bring a large pot of water to the boil. Add noodles, and cook for just two minutes until softened. Drain, and rise under cool water, set aside in the colander,
Heat 1 tbsp of oil in a wok, or large non-stick frying pan. Once the pan is hot, add the carrots and mushrooms and stir fry over a medium-high heat until just tender. Empty onto a dish and set aside
Add the remaining tbsp of oil to the pan or wok, followed by the cooked noodles and the block pepper sauce. Stir fry the noodles over a medium-high heat until completely cooked, just a couple of minutes should do the trick
Remove from heat and add the cooked vegetables, spinach leaves and sesame seeds. Toss everything together until everything is well combined, the spinach has wilted, and the vegetables have heated through
Serve and enjoy!