These vegetarian black bean breakfast enchiladas make a hearty, stick-to-your-ribs weekend breakfast!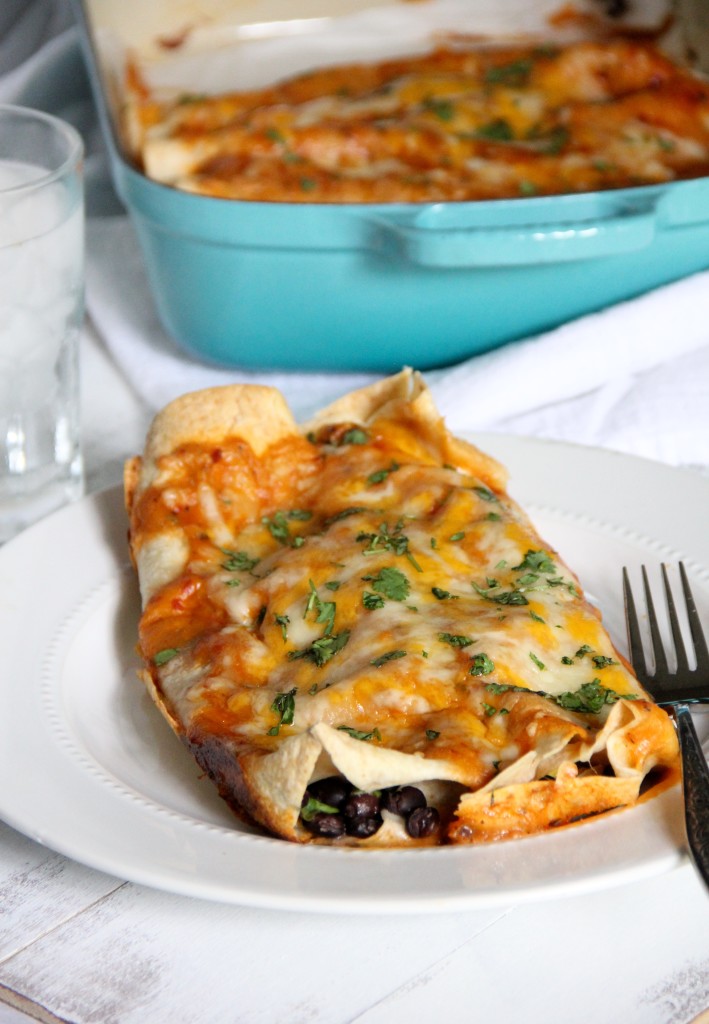 I hope you had a lovely weekend. What did you do? A little breakfast? A little biking? A little brewery action?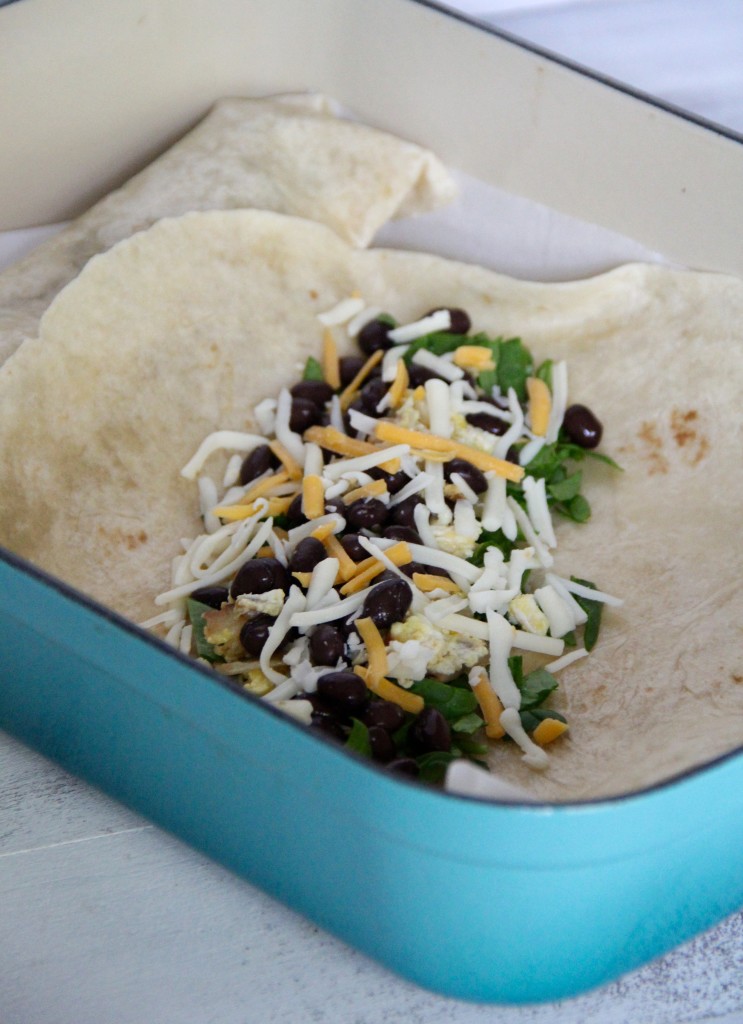 We rarely go out for breakfast at the moment, our little nugget just doesn't really allow for the leisurely experience of a lazy breakfast, so we have taken to fancy breakfasts at home instead. Pancakes, waffles, huge scrambles, or these magical oh-so-YUM black bean breakfast enchiladas always hit the spot.
I actually adapted this recipe from a local brunch spot that I love. These enchiladas are really hearty, and make a fantastic stick-to-your-ribs breakfast. Perfect if you are off to do something very physically active with your weekend. They remind me of huevos rancheros, except I probably love these EVEN MORE!
I have included two different methods of making these beauties. If you have the time, making them with homemade enchilada sauce is highly encouraged, however, I know what its like to cook first thing in the morning, so I have included a lazy girl option to swap the sauce with a jar of good salsa. Either way is pretty spectacular.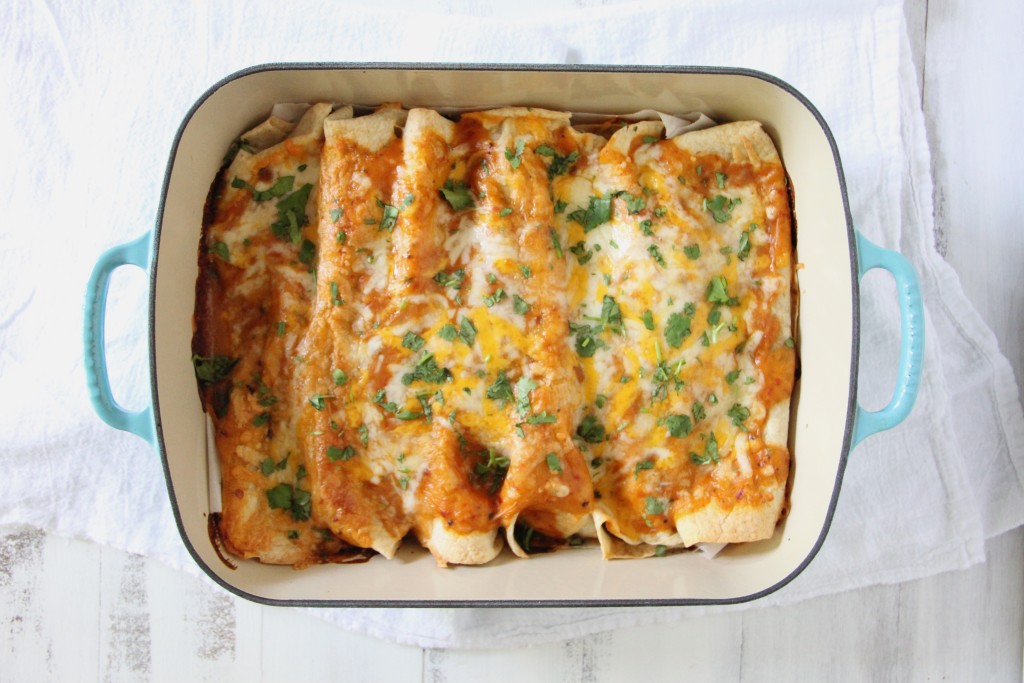 Enjoy!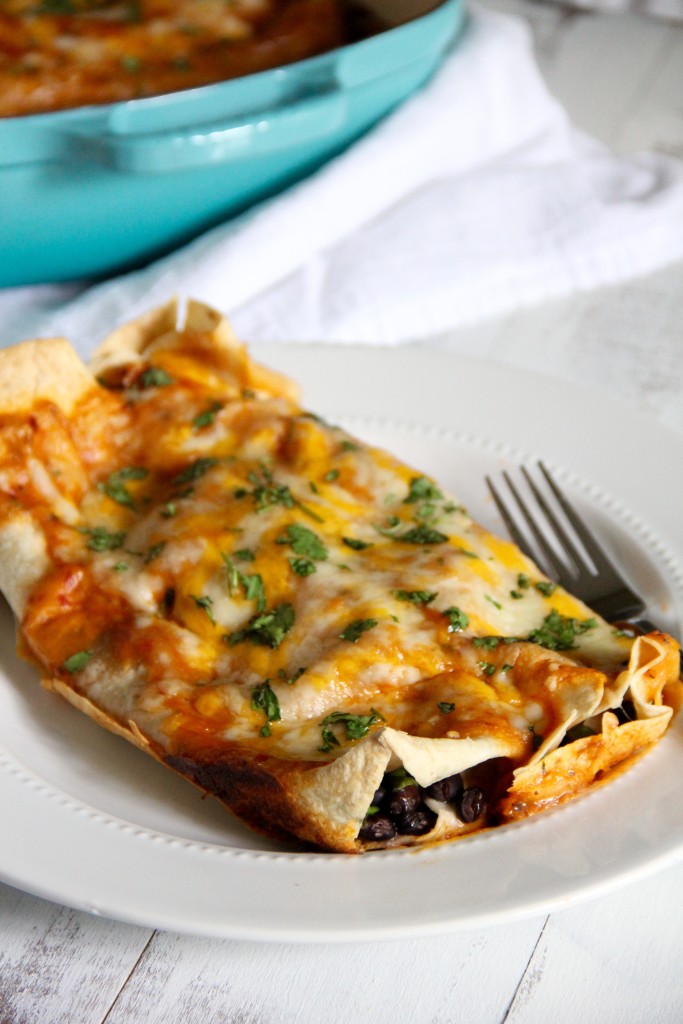 Black Bean Breakfast Enchiladas
Ingredients
For Enchilada Sauce*:
3 tbsp olive oil
3 tbsp whole wheat flour
2 tsp of chili powder (or more or less to taste)
1 tsp cumin
½ tsp oregano
pinch cinnamon
2 tbsp tomato paste
2 cups low sodium vegetable stock
1 tsp apple cider vinegar
salt and pepper to taste
*Replace Enchilada sauce with a salsa of tour choosing for a lazy option
For the Enchiladas:
1 tbsp olive oil
½ large onion
2 cloves garlic
4 eggs
1 cup black beans
1 large handful of baby spinach, roughly chopped
2 cups grated cheddar cheese, divided (or whatever strong-tasting cheese you desire!)
6 wholegrain tortilla wraps (can sub for gluten free wraps if you need to)
Fresh coriander to garnish
Method
First make the enchilada sauce: The key to making this sauce is having all the ingredients ready by the stove, measured and ready to go! Heat the olive oil in a large saucepan until hot and shimmery. Add the flour and spices, and whisk for about a minute until they are fragrant. Whisk in the tomato paste, and then pour in the stock, whisking constantly. Bring the sauce to a gentle simmer, and cook for about 5 minutes until thickened. Season generously with salt and pepper, and set aside to cool (it will thicken a little more in cooling).
Next, make your filling: Heat the olive oil in a medium skillet or frying pan. Add the onion, and fry for a couple of minutes until softened. Add the garlic, and cook for a minute more. Crack the eggs into the pan, and cook, scrambling for a minute or two until cooked through. Remove from the pan and transfer to a large bowl. Stir in the black beans and season generously with salt and pepper.
Assemble your enchiladas: Preheat oven to 400F/200C, and lightly grease a 9x13 inch dish. Place about a sixth of the egg mixture in a tortilla, top with a couple of tablespoons of cheese, and then wrap the tortilla up tightly. Place into the greased pan, open side down, and repeat that process until all of the tortillas are stuffed. Top the tortillas with the enchilada sauce (or salsa), and sprinkle the remaining cheese on top.
Bake for about 20 minutes until the cheese is melted and bubbly. Remove from the oven and sprinkle with fresh coriander.
Notes
Enchilada sauce adapted minimally from Cookie and Kate.