This split pea soup with lemon and time is bolstering and hearty, and full of fresh flavour. Perfect for early Spring!
I am bound by foodblogger law to post something green for you this week. So here it is- Split Pea Soup with Lemon and Thyme! I have been sitting on this one for months (maybe even years?), and for one reason or another I just didn't get around to sharing it with you. Actually, this is the perfect time for such a soup. Its bolstering, hearty and comforting for winter, with just a whisper of spring with the bright flavours of the lemon. Perfect for this transitional winter-to-spring period.
I'll be the first to admit that split pea soup doesn't sound particularly sexy, but there are so many reasons I love this. The ingredients are inexpensive and pretty much always available in my pantry. It is incredibly filling, nutritious and packed with plant-powah-protein, and it freezes really well for any emergency soup needs. Truly, it will change the way you see these little green pulses forever.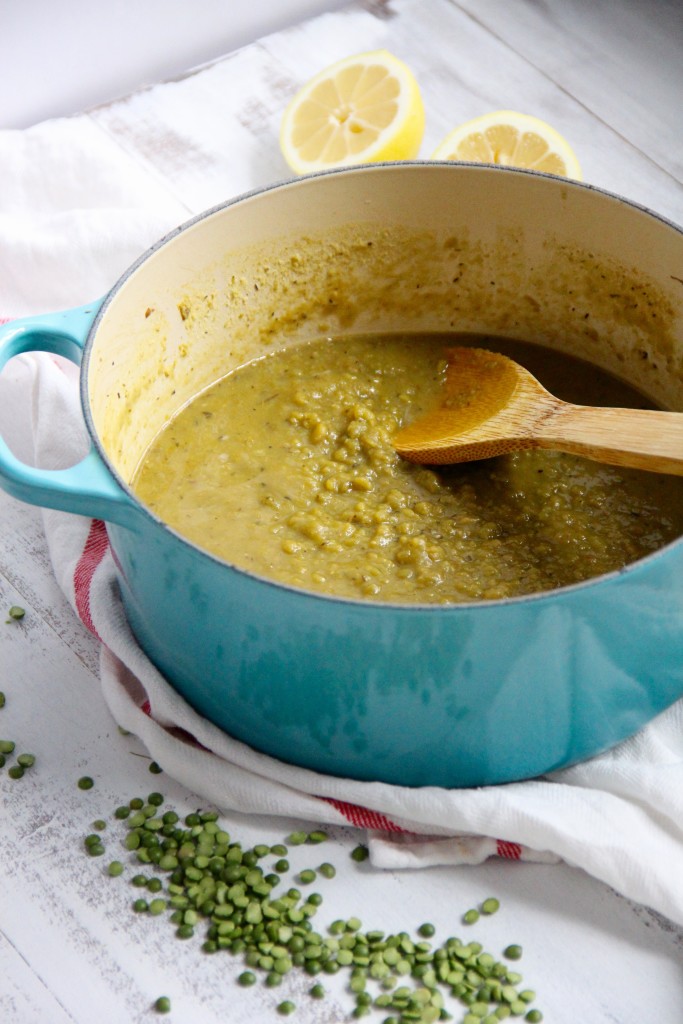 Enjoy!

Best Vegan Split Pea Soup
Ingredients
1 tbsp olive oil
1 large onion, diced
2 sticks celery, diced
1 garlic clove, minced
2 tsp dried thyme
3 tbsp mirin
3 cups dried green split peas
10 cups low sodium vegetable stock (or a mixture of water and stock)
juice and zest of 1 lemon
salt and pepper to taste
Method
In a large pot, heat olive oil over a medium heat and add onions. Cook onions for a few minutes until starting to soften. Add celery and garlic, and cook for a minute more.
Add thyme and mirin, and give everything a goos stir.
Add split peas, and cover with the vegetable stock. Bring the pot to the boil, and reduce to simmer. Pop on the lid and cook for about 45-50 minutes until thick and creamy, and cooked through. Stir in the lemon juice and zest and season with salt and pepper
Notes
Adapted from Clean Start by Terry Walters
Real Mirin is naturally gluten free, but I found out some products contain something called Hydrolysed Vegetable Protein (HVP) which may be made from wheat, and would therefore contain gluten. So if you require this to be gluten free, just double check your Mirin!