This quick portobello sandwich with goat cheese pesto spread is as satisfying as it is delicious!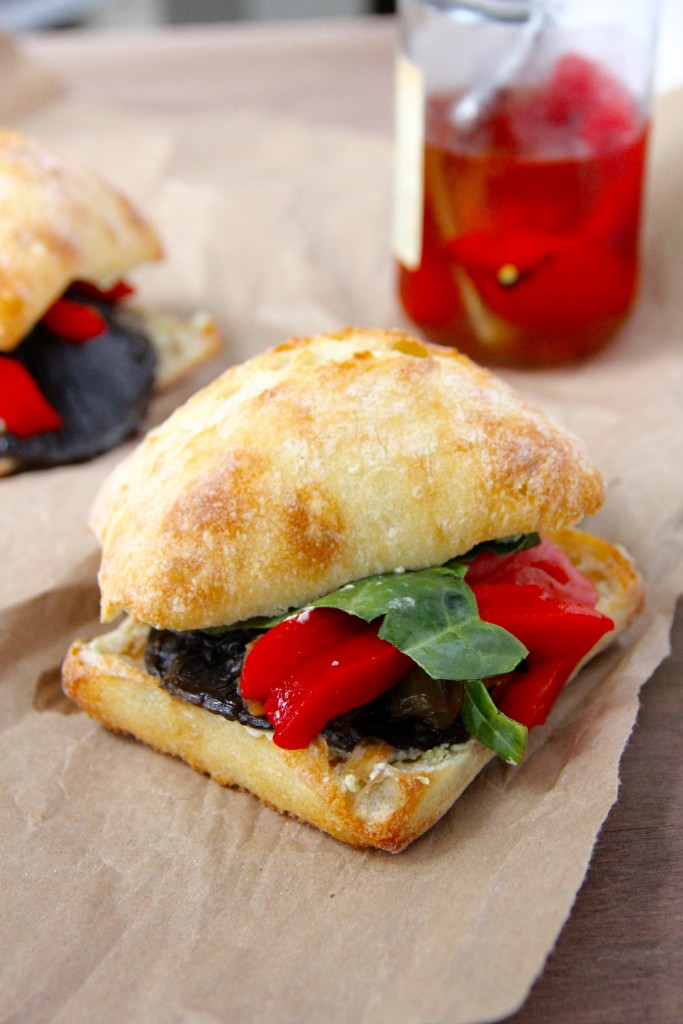 Bear with me, for I am not usually this winey. But. A mere two weeks from my marathon, I had four months of perfect training marred by dual afflictions. ITBS (<— boring runner injury), and bronchitis (<— positively Dickensian). I've been so mopey that I have barely been able to enjoy carb loading.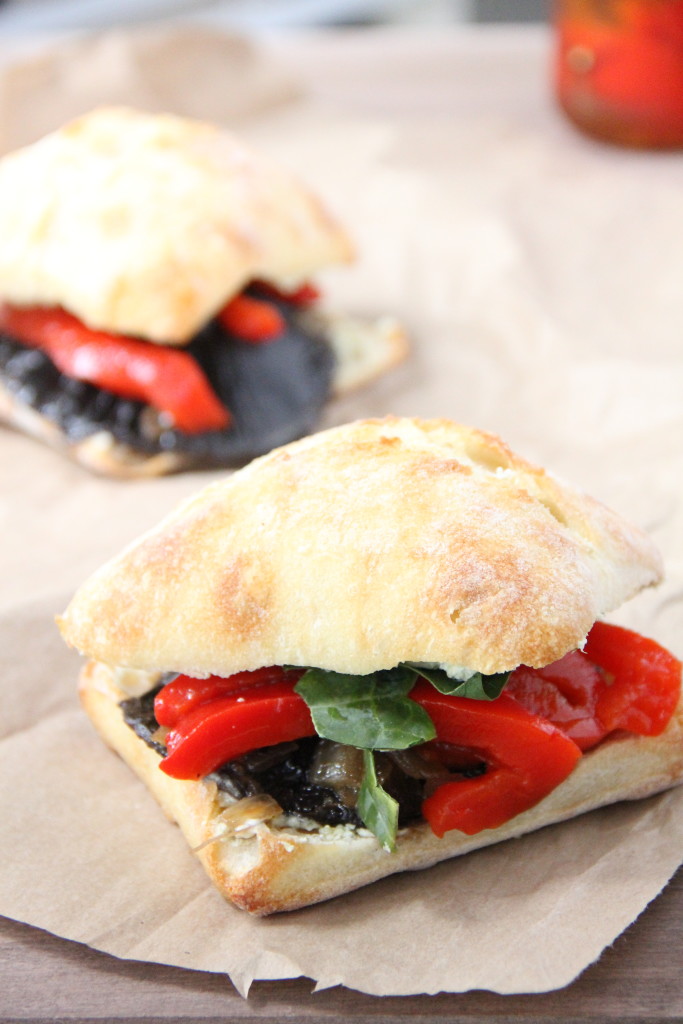 I say barely, because I did thoroughly enjoy this Portobello Sandwich at the weekend. However, I was in two minds as to wether it was blogworthy or not. Delicious as it is, portobello sandwiches are one of those overdone vegetarian options that seem like an afterthought on the menu. Too often they are prepared without appropriate care, and are mediocre-tasting at best. I've also seen recipes at the other end of the spectrum, requiring you to marinate your portobello for 1+ hours. TOO MUCH! So this is a nice compromise, the mushroom is cooked in a tasty balsamic sauce, but it only takes ten minutes, and the rest of the flavour comes from a quick pesto-goat cheese spread. Sublime!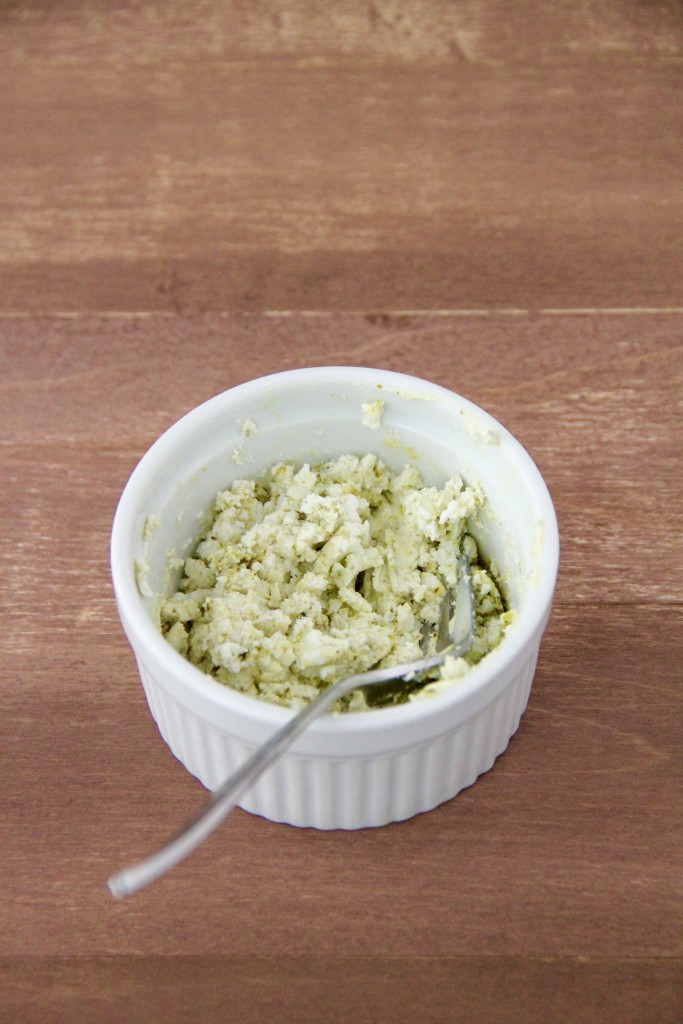 Enjoy! And send me happy vibes for Sunday, k?!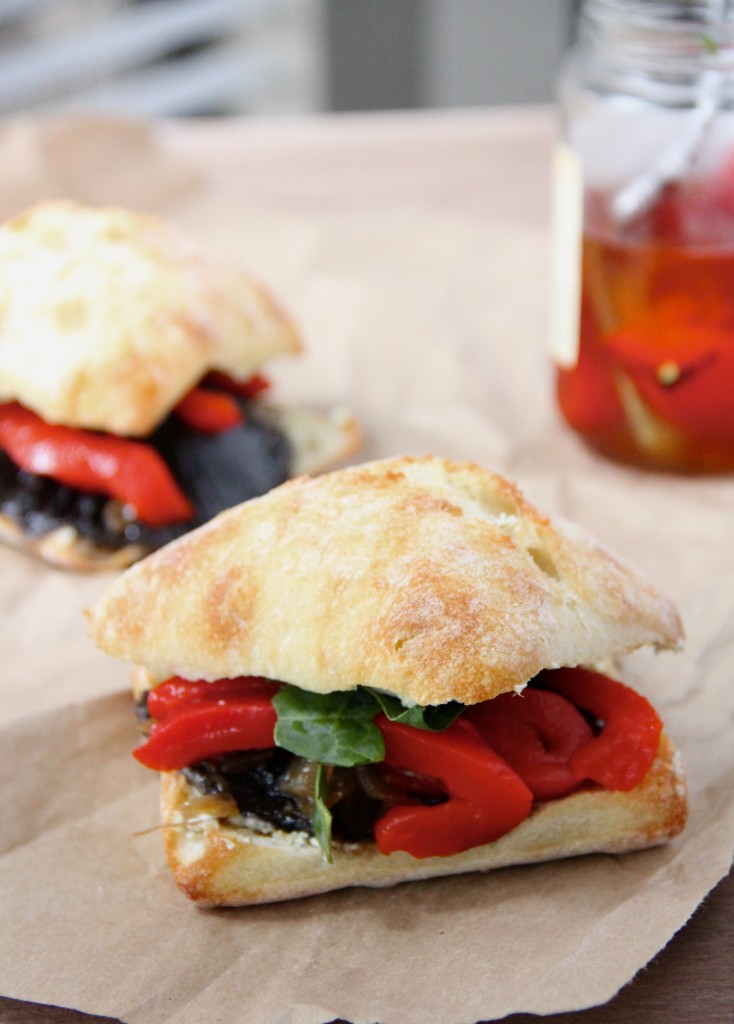 Portobello Sandwich
This quick portobello sandwich with goat cheese pesto spread is as satisfying as it is delicious!
Ingredients
For the mushroom:
1 tbsp olive oil
1 small onion, diced
4 portobello mushrooms, destemmed
2 garlic cloves, minced
2 cups low sodium vegetable stock
¼ cup balsamic vinegar
2 tbsp mirin*
2 tsp dried thyme
For The Goat Cheese Spread:
⅔ cup soft goat cheese
2 tsp pesto
To Assemble:
4 rolls or crusty bread of choice (I adore ciabatta rolls for this, but whatever you fancy!)
Roasted Red Peppers (from a jar, or make your own- see notes)
Handful of spinach
Method
Heat olive oil in a large pan, and add the onions. Cook for a couple of minutes over a medium high heat until starting to soften, and then add the garlic and mushrooms, Cook for a minute more.
Add the vegetable stock, vinegar, mirin, and thyme, reduce the heat to low and cook for 5 minutes, then flip the mushrooms and cook for 5 minutes on the other side. The liquid should reduce, and thicken, and the mushrooms should become tender and juicy.
Meanwhile, make the goat cheese spread: mix together the cheese and pesto in a small bowl and set aside
Assemble the sandwich: split each roll in half, and toast under the grill (broiler) for a minute, spread each half with the goat cheese spread. Layer on the cooked mushrooms, and top with the onions, peppers and spinach.
Notes:
*If you don't have mirin to hand, you can use vermouth, sherry or marsala.
If you want to roast your own red peppers, there's a great tutorial here.
Mushroom adapted from Happy Herbivore.